News
Our network is bustling with events, meetings and encounters, which we enjoy reporting about to you. As a matter of course you will also find all the important news from the network itself, by us, with us and about us. You will remain up to date, and your company stays on top of things.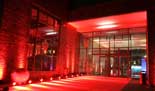 INNOVATIONSPREIS 2018 - Bewerbungsstart im April
Alle potenziellen Bewerberinnen und Bewerber sollten sich den 30. Juni 2018 vormerken. An diesem Tag endet die im April startende Bewerbungsphase. Machen Sie mit, es lohnt sich. Die Teilnahmeist ganz einfach und kann online erfolgen. Selbstverständlich informieren wir Sie rechtzeitig auf allen Kanälen über den Bewerbungsstart!
more
CONTACT

media.connect brandenburg
Alice Bucher
Public Relations
T +49 30 2462 857-16
F +49 30 2462 857-19
bucher@mediaconnect-bb.de
www.mediaconnect-bb.de
Interesting Topics