INTERNATIONALISATION
Internationalisation has become an integral part of modern business. Internationalisation affects all areas of media.connect: foreign customers, an increasing number of which are relocating to the region, partners abroad, staff with international backgrounds and, of course, ever-increasing competition from other countries. Opportunities for stimulating business are often associated with risks. Members of media.connect should bear the following in mind: As well as adapting business models, the company's products and services may need to be re-conceptualised and communications need to be internationalised. Successful internationalisation means more than just establishing contacts abroad or branching out into other countries. How to implement this 'more' is the focus of the internationalisation services provided by the media.connect network.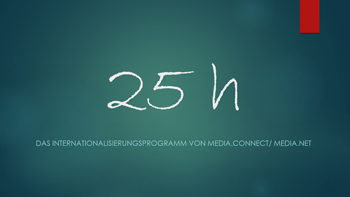 In the past, media.connect brandenburg has offered a comprehensive multi-annual programme to assist members with their internationalisation strategies and provide relevant advice. The content of media.connectGLOBAL has been developed with the help of AHP International and Creatives Loop International.
media.connect will continue to serve as your first port of call for internationalisation issues and is pleased to make its entire network available to you. Get in touch.
media.connect brandenburg puts you in touch with multipliers in your European target markets and helps you expand your international network.
With the highly successful and popular format '25h', we invite our members to join us on a 25-hour trip to explore a major European city. media.connect brandenburg will enquire in advance about your interests and your reasons for participating, so that we can develop a personalised programme for you together with our local partners, consisting of information about the business location, company tours, meet-ups, dinners, trade fair visits, and anything else you may require. Cities visited in the past as part of the '25h' concept include Flanders, Vienna and Malmö.